During Super Bowl XLI, you may have seen a commercial about "Super Bowl Babies",  which are babies conceived immediately following a city's Super Bowl win.  While I believe the link between conception and championship is difficult to prove, it doesn't mean that sports can impact a parent's decision making.  This commercial did remind me of a Clemson football player named Shaq Lawson, which makes him the second person named Shaq I had ever heard of.
Using the Social Security Administrations data, and Google Big Query, I decided to look at the names of Hall of Fame players with unique names, and look at the number of babies born during that time with their name.  I chose five athletes, Shaquille O'Neal, Michael Jordan, Tiger Woods, Kobe Bryant, and Lebron James.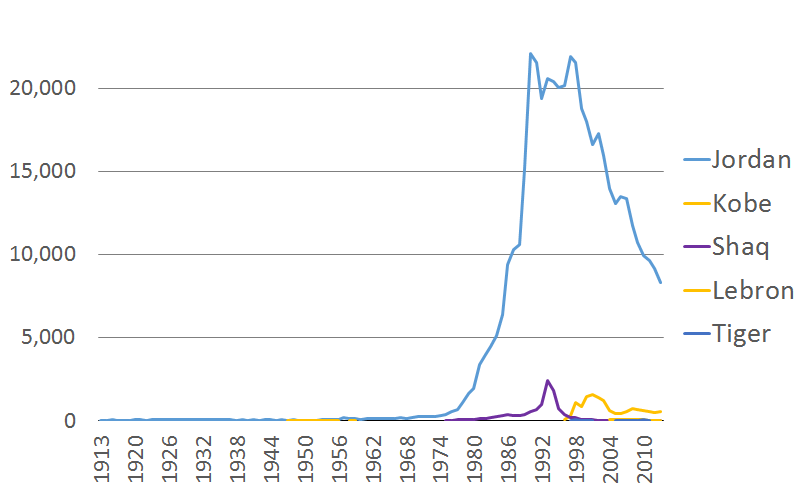 When did each name peak?
Shaq ('92, '93, '94)
Before 1973, Shaq (and Shaquille) did show up in the SSA's published data, but twenty years later peaked at 2,422.
The most popular years for the name Shaq began after Shaquille O'Neal was drafted out of LSU with the first draft pick in the 1992 NBA Draft.  During his first three years with the Orlando Magic he won Rookie of the Year, appeared on the cover of Sports Illustrated, and finished fourth in MVP voting.  ESPN listed Shaq as the fourth best center of NBA history.
Kobe ('00, '01, '02, '03)
The first name Kobe went from 307 in 1996, to 1,093 in 1998 which coincided with Bryant's second season with the Lakers.  From '01 – '03 Bryant finished in the top ten in MVP voting each year, and won three NBA championships during that time.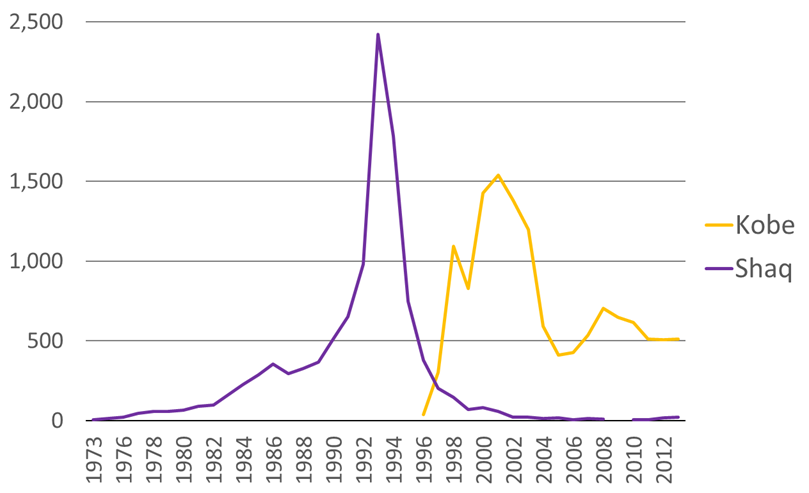 Jordan ('90, '91, '97, '98)
Jordan was next, there were 660 people named Jordan in 1977, but 22,080 in 1990, and was by far the most popular of the five names analyzed.
The top years for the name Jordan coincided with Michael Jordan's peak with the Chicago Bulls.  During his tenure, Jordan won six NBA championships and Finals MVPs, and 5 All-Star awards.  Jordan is considered to be the best player in NBA history.
Tiger ('97, '98, '10)
Tiger won't go down as the most popular name, but it is a unique first name that first appeared in 1997 after Tiger Woods won the 1997 Masters Tournament.  Interestingly enough, the most popular year for the name Tiger was 2010 when Tiger was the center of an infidelity scandal.
Lebron ('07, '10)
I was surprised to see the Lebron hasn't been a popular name despite James's championship wins with the Heat, major endorsement deals with Nike.  Only two years have had more than 50 people named Lebron born: 2007 and 2010.